Magnetic Building Tiles Toy
Magnetic Building Tiles Toy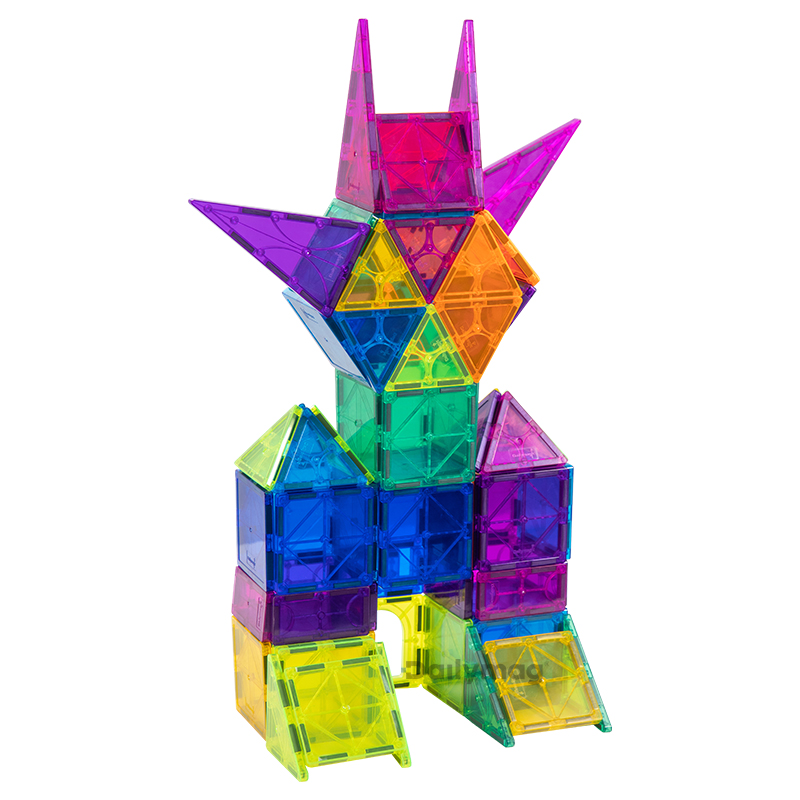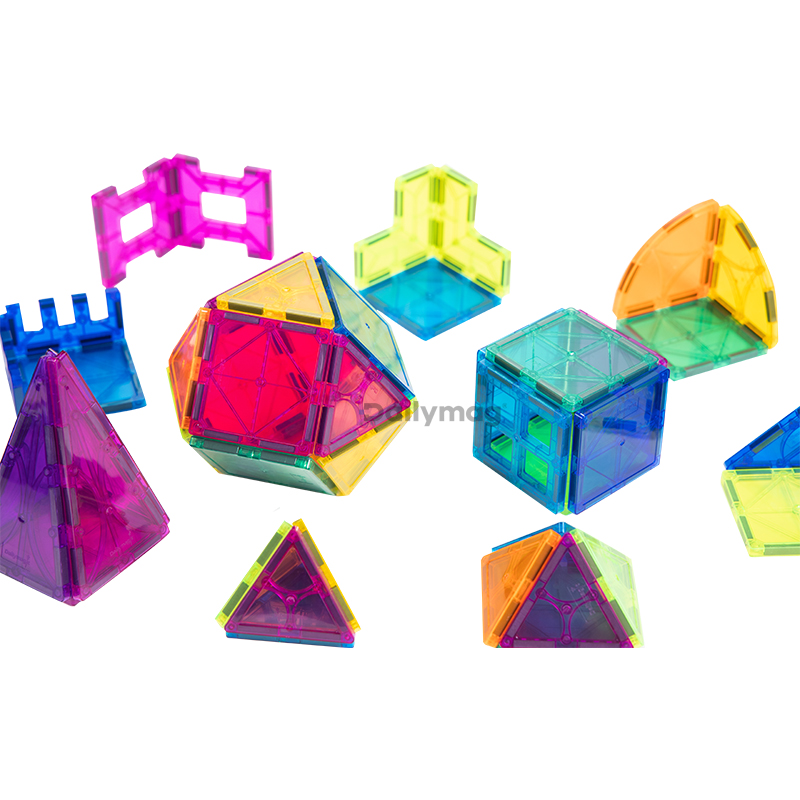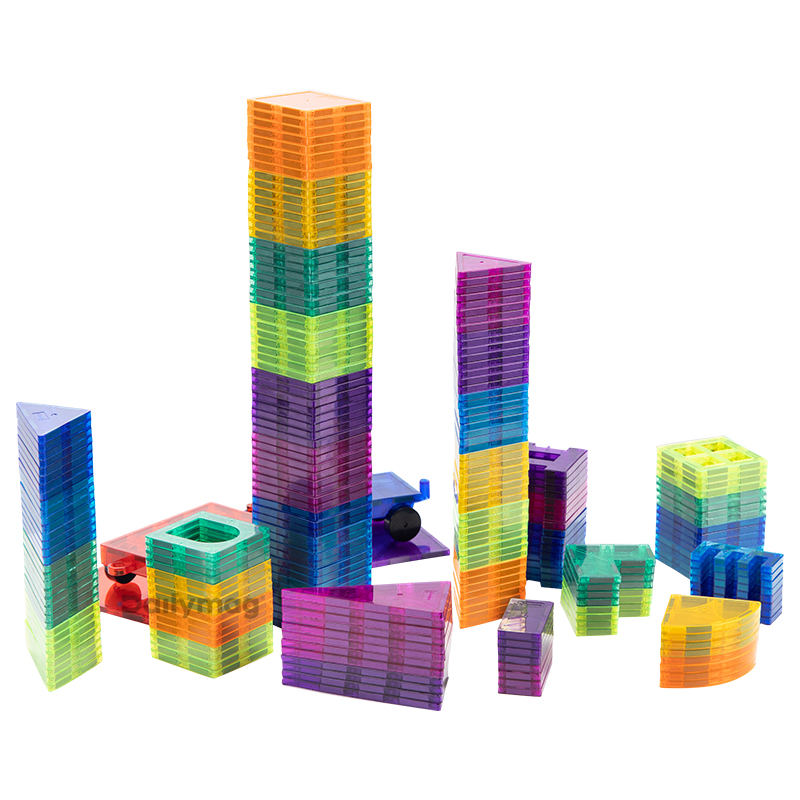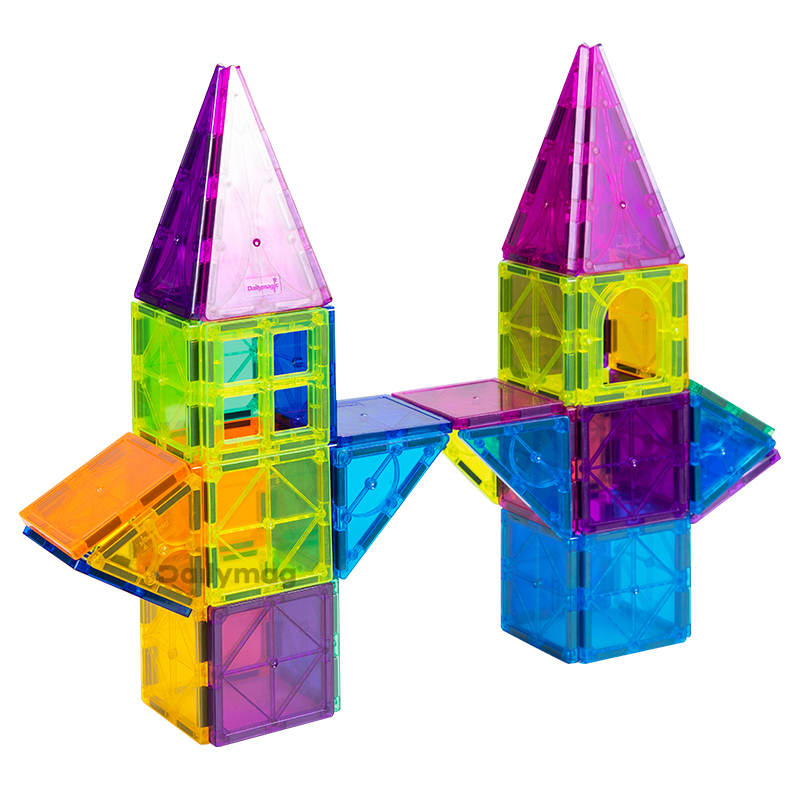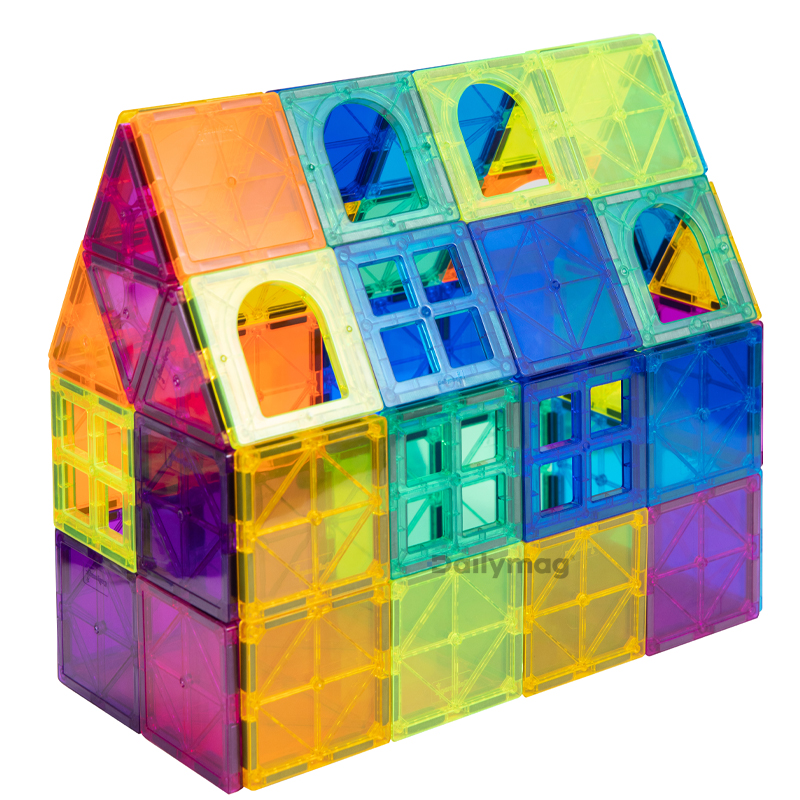 Magnetic Building Tiles Toy
Amazing magnetic toy that can build 10000+ style shapes, 'Dailymagic' Magnetic Building Tiles Toy
---
Contact Us Now
---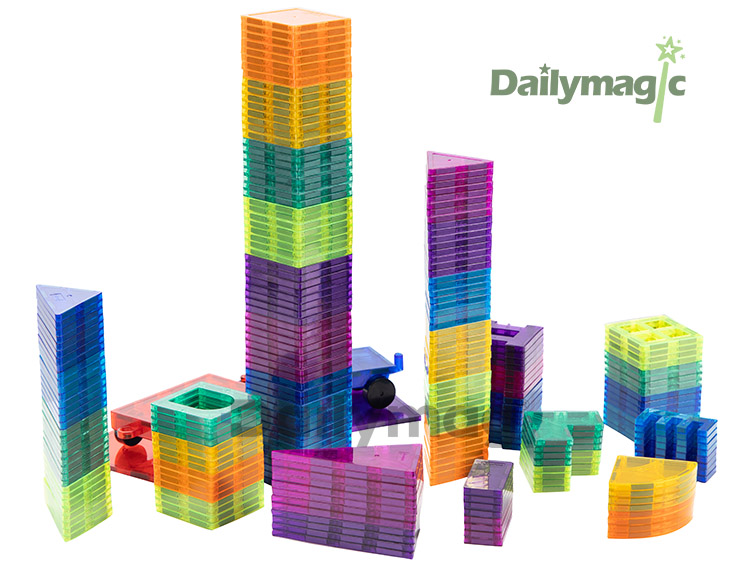 Dailymag 'Dailymagic' Magnetic Building Tiles Toy is a amazing magnetic toy that can build 10000+ style shapes.
Dailymag 'Dailymagic' Magnetic Building Tiles Toy is the latest generation of magnetic educational toys. Each piece is moderate in size (most of the size is 3 inch x 3 inch, thickness 1/4"), light weight, and several ferrite magnets are wrapped by high-transparency environmentally friendly plastic. Made. Bright colors, strong magnetic force, as many as 11 shapes: including 5 squares, window squares, arch squares, L-shaped and H-shaped, 3 equilateral triangles, right-angled triangles, long isosceles triangles, and 1 Semi-rectangular, 1 fence, semi-rectangular, and 1 sector-shaped. The most ingenious design of this Magnetic Building Tiles Toy is that each piece of magnetic pieces can be freely combined with each other, without orientation restrictions. The precise size combination allows toys to be built It is still firmly established after being 20 storeys high.
This magnetic toy is very suitable for children over 3 years old. The product's multiple pure and bright colors can enhance children's recognition of colors, and more importantly, develop children's ability to distinguish objects and structures of various buildings. Because of its magnetism, it is much more playable than ordinary wooden or plastic building blocks, and the shape can be more complicated. Children can build skyscrapers, castles, space shuttles, animals and other shapes according to the drawings. They can also use their imagination to build their own farms, paradise, and even small towns with a larger number of magnetic films.
Why play with magnetic buidling tiles?
A friend said that I already have Lego at home and don't need a magnetic buidling tiles toy. Is that really the case?
'Dailymagic' Magnetic tile and Lego are both mainstream building blocks, which are almost always involved in the growth of children. Both of these are construction toys, and both have the educational function of construction toys, but their experience for children is different:
Lego experience is mosaic and mosaic,
'Dailymagic' Magnetic tile play with magnetism and gravity,
The advantages of the magnetic building tile just make up for the weakness of Lego.
Take building blocks as an example. Children can pile up different shapes according to their own imagination through building blocks, but in addition to snap-on building blocks, other types are easier to fall apart. For Lego, we recommend babies over three years old to play. After all, Lego has relatively small particles. Babies who are too small may be in danger of swallowing. Babies before the age of three are recommended to play with large particles.
'Dailymagic' Magnetic building tile can be said to be the lowest barrier to construction game materials, basically you can play around one and a half years old (baby around one and a half years old needs an adult to play with magnetic film), magnetic film can pass the combination of points, lines and surfaces Combined into various shapes, it has become more and more popular in recent years, and has gradually become one of the most favorite STEM teaching aids used by offline early education institutions.
The most important thing is that this magnetic construction toy is safe and reliable, there is no risk of children swallowing it, it is also very light, does not contain metal, and does not have neodymium magnets, and will not affect magnetic-sensitive instruments. The product meets the requirements of the CPC in the United States.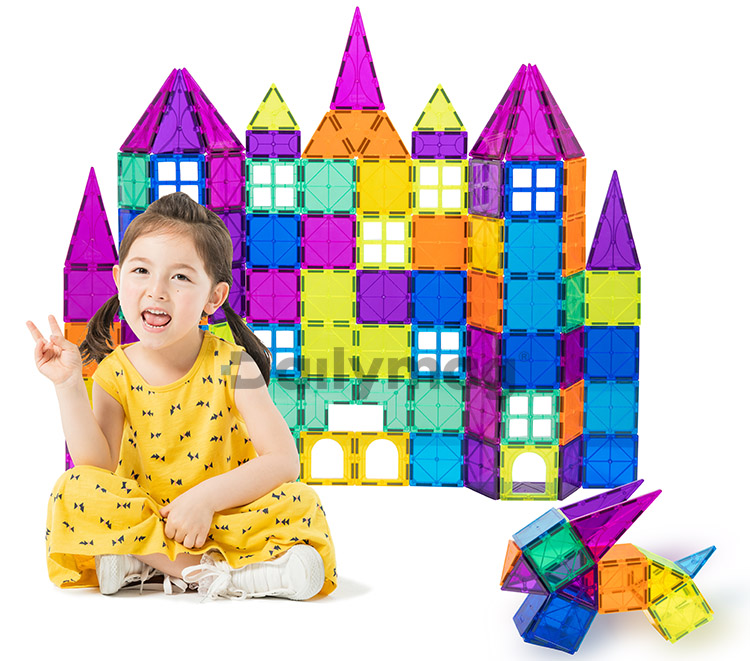 | | |
| --- | --- |
| Item No.: MBT-70 70pcs Magnetic Building Tiles Toy set | 24pcs Square + 2pcs L Wall + 2pcs Door + 2pcs Windows + 8pcs Wide Triangle + 14pcs Triangle + 4pcs Retangle + 4pcs Fence +6pcs Long Triangle + 2pcs Gates + 2pcs Sector |
| Item No.: MBT-118 118pcs Magnetic Building Tiles Toy set | 32pcs Square + 4pcs L Wall + 8pcs Door + 8pcs Windows + 16pcs Wide Triangle + 24pcs Triangle + 4pcs Retangle + 4pcs Fence +6pcs Long Triangle + 8pcs Gates + 4pcs Sector |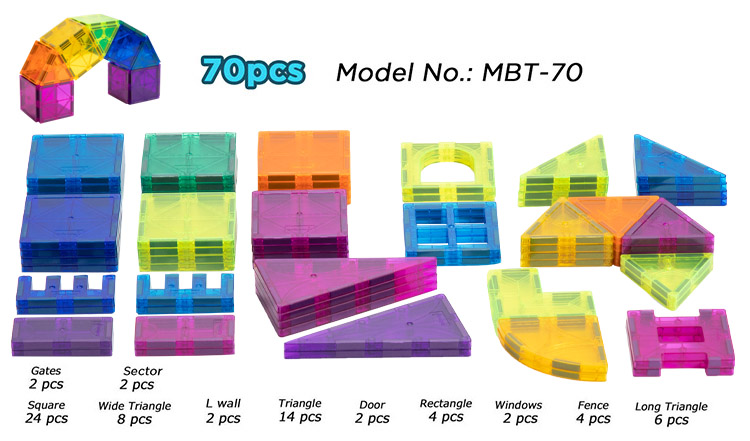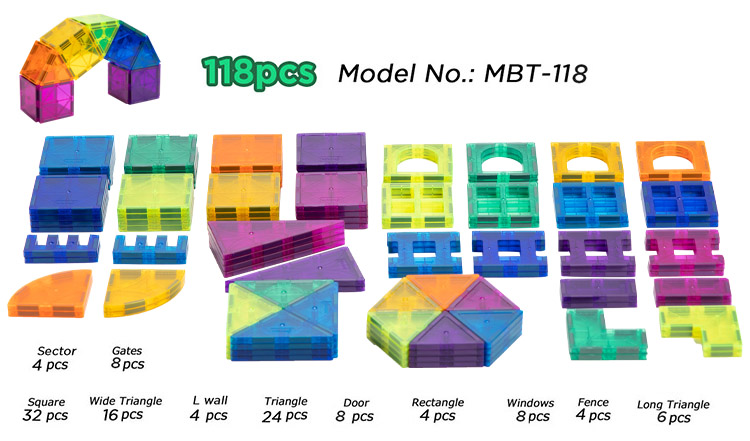 'Dailymagic' professional 120pcs set, with additional 1pc Big square tiles size 6 inch x 6 inch and 1pc magnetic flatbed cart, item No: MBTP-120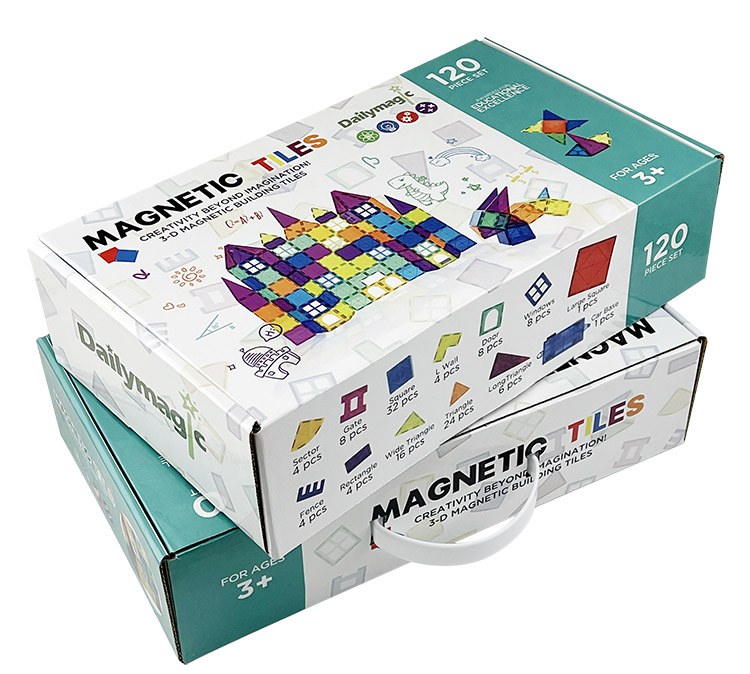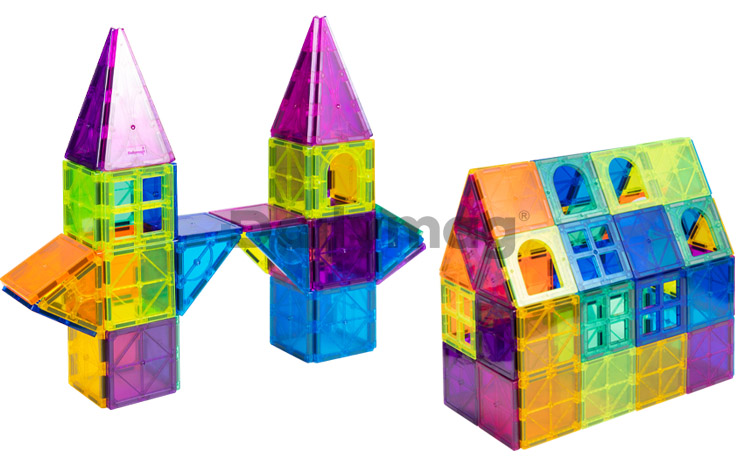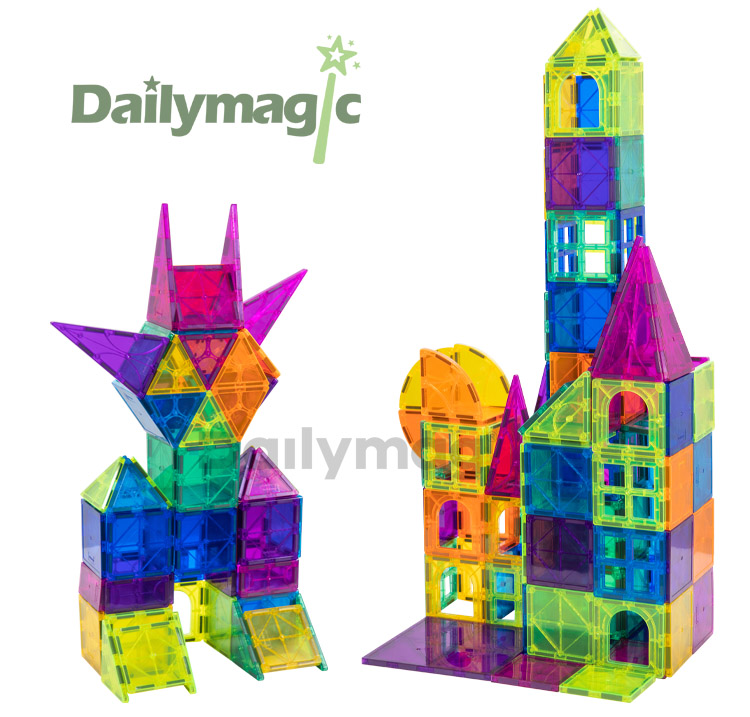 What is the difference between Dailymagic Magnetic Building Tile and Lego ones?
1. Lego is a toy for children and adults. For me, Magnetic Building Tile are more focused on children's toys, bright colors, simple geometric figures, crackling and sucking together, you can build very dazzling works.
2. The disassembly and assembly of Lego pellets is sometimes not very suitable for a baby's hand, which will make it very painful; the hollow design of the magnetic sheet is easier to grasp and disassemble.
3. I think the most interesting part of the Magnetic Building Tile is the magnetic force, which makes its construction more random than Lego, and it is dynamic and has more ways to play. For example, my child likes to lay out magnetic sheets of various shapes on the floor, and then pick up one piece and lift it up. The other magnetic sheets are randomly attracted to each other to form a beautiful building, and then shake it. It is transformed into a new building. In the process of building, even a simple cube needs to rely on the mutual adsorption between the magnetic sheets to support it. Children will find it particularly challenging and discovering.
How to build a house with Dailymag 'Dailymagic' Magnetic Building Tiles Toy?
It's very simple. When the child likes a certain building or castle very much, let him make a simple structural decomposition of the house, then identify which shapes of magnetic sheets are needed and determine the approximate number, and start the construction work. Generally speaking, the square Magnetic Building Tiles is the basic element and the main component of the construction building. Combined with triangles, sectors and special-shaped squares, it can be built into a 90% prototype-like model. The edges of each Magnetic Building Tiles can be freely attracted to each other, so there is no need to worry about the direction and angle when building.
How to build a richer scene with Dailymag 'Dailymagic' Magnetic Building Tiles Toy?
Dailymag can also provide players with matching accessories, including large magnetic cubes,magnetic flatbed carts, and small dolls with magnets. Combining these accessories can create a richer scene.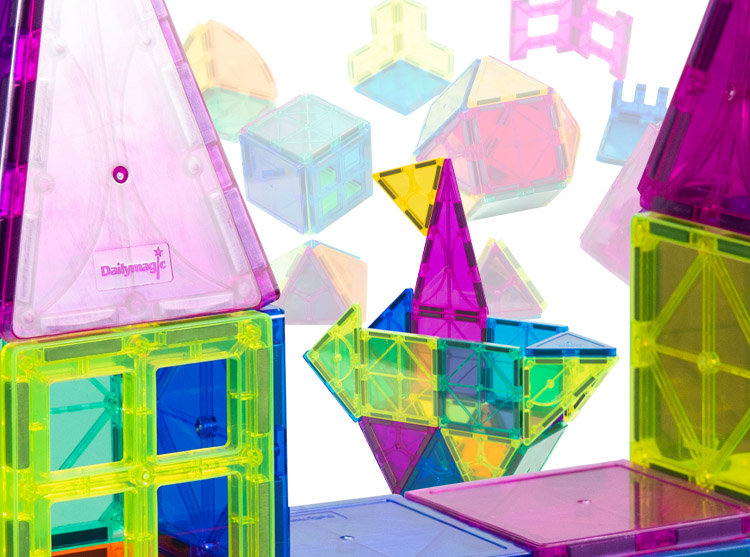 GET IN TOUCH
Send Us a Message
Our experienced and professional team is skilled in designing Magnetic Toy just for you, and we understand the needs of the recycling industry.